We Are Collision Repair Experts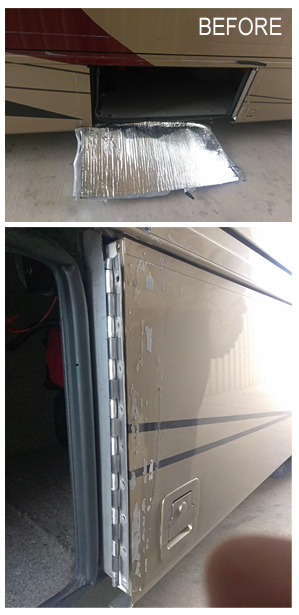 ---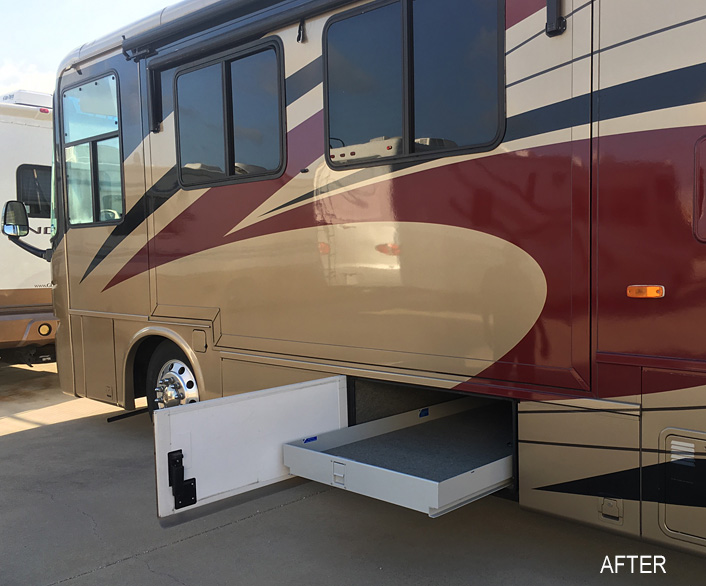 ---
From Pop-ups to Provosts…
we do it all!
There are plenty of full-service RV repair shops in the Dallas-Fort Worth area, but none of them can match the reliability, experience, and sheer volume of the available repair services North Texas RV has to offer. Our expansive "toolbox" of state-of-the-art equipment means we can tackle any project, whether you've been in a small wreck or you need significant outer body part replacement. Put your trust in a company that has almost 30 years of hands-on experience working with everything from a motorhome, camper, or travel trailer to pop-ups, prevosts, 5th-wheel trailers, and more.
Before we get into our long list of RV repair services, here is where we truly separate from the competition:
WE WORK WITH ALL MAKES AND MODELS
When choosing an RV repair shop, you should always ask if their technicians have experience working on the same make and model RV as yours. Believe it or not, some places may be more comfortable fixing smaller campers versus bigger rigs, or they simply don't have the available staff to fix your RV in a timely fashion. It takes a specialized team of technicians to get your RV back on the road. We are committed to finding repair solutions for motorhomes, campers, travel trailers, pop-ups, prevosts, 5th-wheel trailers, and so many more.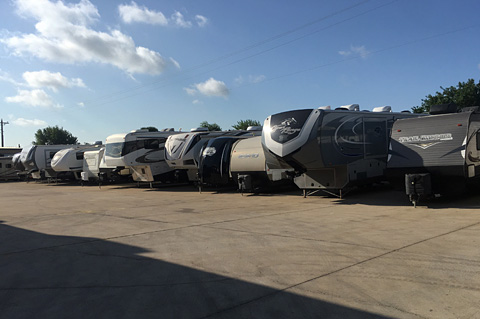 OUR REPAIR PROS PRIDE THEMSELVES ON ATTENTION TO DETAIL
It may sound cliche, but we pay attention to the little details that could spell more significant problems down the road if ignored or taken for granted now. At North Texas RV, we return your RV to you in a like-new condition – every time. That includes color matching, using original equipment manufacturer parts whenever possible, and going beyond what the insurance company suggested to see if there is any hidden damage that should be addressed.
WE CAN FABRICATE (REPRODUCE) PARTS
What happens if you have an older RV and the company that made a certain part went out of business or no longer makes that part? At North Texas RV, we can fabricate or reproduce a litany of parts for repairs, service, and even customized customer requests. This gets you out on the road faster and gives you the confidence that you have a co-pilot who can handle any repair request you can throw at them.
WE WORK DIRECTLY WITH INSURANCE COMPANIES
We understand most of our clients have never been in an accident. Many times, they are completely devastated, confused, and unsure how to handle the situation. The least we could do – besides repairing their RV and making it look brand new – is to shoulder the burden of working directly with their insurance carrier. Simply give us the claim number, and we'll handle the entire process.
---
---
Replacements…
full collision damage repair!
24-7 SECURITY PROTECTS YOUR RV
As much as we strive to complete all repairs in the shortest time possible, sometimes that still means leaving your rig with us for an extended period. We provide our customers with the peace of mind that their RV isn't sitting unattended on an open lot in the middle of the night. Our entire facility is fully-insured and guarded by state-of-the-art security systems, including 24-hour live security monitoring and a coded access gate.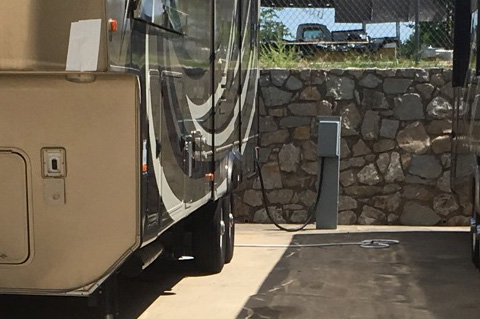 NEED A PLACE TO STAY? WE'VE GOT YOUR HOOKUP!
We consider our customers extended family because many of them – especially full-time RV enthusiasts – stay on site for the duration of their repairs. And we love every minute of it. Our facility is equipped with 50-amp electrical hookups with water and dump station. There are also plenty of restaurant and shopping options nearby.
If you haven't guessed by now, North Texas RV wants to be your trusted source for RV repairs – every time! Put your trust in a company that has almost 30 years of hands-on experience. We are fully licensed and insured.
Below is a list of how we can help you in the area of RV repair:
Full collision damage repairs
Outer body part replacement
Coach structural repairs
Fabrication
Storm and hail damage
Fire and smoke damage
Fiberglass front and rear cap
Roof repair and maintenance (metal, rubber, and fiberglass)
Welding
Window and door repair
All types of siding
Awnings
Refinishing of trailers to match RV
Custom exteriors
Complete paint & custom paint
Accessories painted
Spot paint, graphics, and design templates
Decals
Do you have a repair need that you don't see on this list? With a quick phone call, we can get that question answered and get you heading in the right direction. Call us today!
GET IN TOUCH WITH US